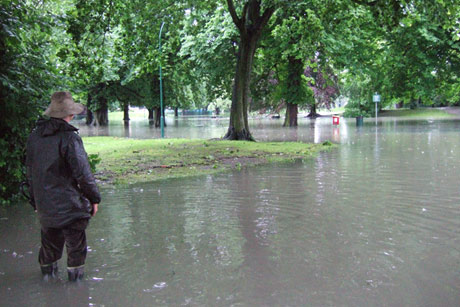 Pearson Park, Hull, on Monday 25 June 2007, at 4.20 pm
adAqua - the proposal
Partial solution to flooding caused by very heavy rain over Hull flood plain
Low-tech scheme with various additional benefits
Water butts used by each household to collect rain water from the roof of the house so that it can be released slowly into the drains, thus reducing the peak demand for drainage.
This method is cheaper than building drainage infrastructure which could cope with the demand in real time.
Benefits of the low tech low cost solution proposed include: supply of soft water for watering plants (better for them than chalky tap water), car washing, WC flushing, and when properly installed with a filter and uv sterilizer, independent emergency supply of water for cooking, and, after boiling, for drinking. It might also be possible to get a reduction of water rates where surface water drainage is charged for separately.
Smoothing the demand on drainage services by this low tech method thus also reduces the demand on the supply of clean water. The electricity supply infrastructure needed to satisfy peak loads on both drainage and supply of water is also reduced since electricity powers the pumps for drainage and to supply clean water.
How does it work? When heavy rain is expected the water butts would be ready to receive it, thus reducing the demand for drainage at that point. In the simplest version of this remedy the water butts are provided with a slow-release drain point so that collectively the water butts act as a buffer, holding back a significant proportion of the rain water until the peak drainage need has passed and then releasing it slowly over, say, the next day or two. It will then be empty, ready for the next heavy rain.
Who benefits?
Everyone benefits by this Community scheme, carried out by the community for the community:
Yorkshire Water would be relieved of unwelcome pressure to invest in expensive infrastructure which would hardly ever be used and could thereby improve their investment potential.
Hull city council, in supporting this practical plan, would be seen to be doing something positive about averting the risk of further flooding, thus helping to avoid another multi-million pound disaster without incurring much expense to council tax payers.
A suitable supplier of water butts and allied equipment could receive a large order from HCC on behalf of the citizens of Hull with economy of scale.
Job creation: installation teams.
Insurance companies should be happier with this system installed, as they would be more able to offer insurance again where flood risk had been too high to cover.
Householders should welcome an organised scheme because apart from its offering to lower the risk of flooding, those households which had had their insurance premiums raised should have them reduced, and those whose flood insurance had been refused should be able with a scheme in place all over Hull to obtain insurance again.
Capital Investment: Anyone with investment in Hull, householders, landlords, HCC, manufacturers and businesses would be glad to know their investment was safer.
Reducing the risk of flooding (caused by increase in extreme weather [as evidenced by the flood in Hull in June 2007]) and the consequent wasteful destruction of embedded carbon in buildings and furniture should make Hull a more viable place for investment in businesses and homes.